YouTube provides your business massive benefits. More than 1 billion users watch YouTube videos every day. That's one-third of the internet. YouTube's TrueView platform provides a simple, straightforward, and effective solution to build brand awareness and accurately target your audience. TrueView gives you a more engaging, interactive, customized experience for both viewers and advertisers.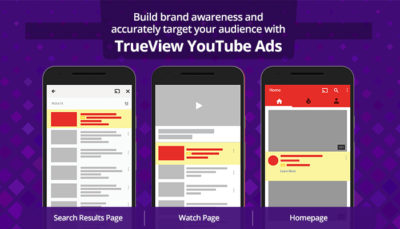 TrueView ad platform allows you to create and manage AdWords campaigns, which provides versatile options with different video ad formats. TrueView is considered the less intrusive form of advertising giving the viewer the option to skip ads. TrueView ad platform offers substantial benefits to viewers and advertisers.
The two main options for running advertising campaigns are in-stream ads and discovery ads. In-stream ads appear before, during or after a video. They offer calls-to-action overlays which help drive clicks to your website. TrueView discovery ads provide online brand visibility and awareness. They appear in Youtube search results when people are searching, or browsing videos. They provide CTA and a link to help drive clicks to your website.
How TrueView Ad platform works
In-stream ads allow viewers to skip in-stream ads or select the ads they want to watch. Pay only for ads when viewers watch the video ads for at least 30 seconds.
In-display ads (Discovery) enable viewers to appear next to other YouTube video ads or opt for commercial breaks interspersed through the video content.
In-search ads (Discovery) appear in YouTube search results when the viewer's search is related to the ad's keyword terms
Advantages
There are distinct advantages of using TrueView to increase brand awareness in front of your target audience. TrueView ads are cost efficient, versatile, non-intrusive, and improves audience engagement levels. There are several advantages of running TrueView ads for your digital advertising campaigns, including:
8 out of 10 viewers prefers to create TrueView ads to other in-stream video ad formats
Saves money to advertisers and reach the targeted audience directly with contextual keywords
Create custom affinity audience tailored to your brands
Acquire new and relevant customers through remarketing campaigns
Inbound marketers can use TrueView for getting a high volume of impressions, brand awareness, and top-of-the-funnel objectives